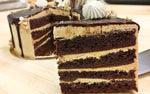 Do you want to improve your cake skills? There's a lot to say about how to create a successful cake, and here are just a few tips from us:
1. Plan ahead and make sure you have enough time to prepare. Seems obvious, right?
Factor in ingredient temperatures, baking times, cooling times and decorating times. You don't want to rush a cake. It's usually for a special occasion and there's more pressure to make it amazing!
2. Let eggs and butter come to room temperature. This will improve the texture of your cake.
This could take about an hour, but if you didn't take your eggs out you could put them in a bowl of warm water for about 5 minutes. You could cut butter into smaller pieces and microwave on low power for 30 seconds at a time, stirring in between - you're trying to soften it evenly without melting (melted butter won't hold the air bubbles you want to create).
3. Do not overmix your batter when you combine wet and dry ingredients. I know, you're thinking why do I have to worry about this if there's no gluten in my cake?? Trust me, you can still make your gluten-free cake a dense rubbery mess. You'll want to have some kind of gum in the ingredients to hold the structure, guar or xanthan (we use guar gum in our cakes), and this will make your cake tough if overmixed. You may lose some leavening from the baking powder/soda or whipped egg whites if you overmix the batter as well.
4. Use helpful tools!
We use cake rings to bake our cake layers, and you may prefer this to a springform pan or cake pan. These durable stainless steel rings will last you awhile, and are easy to clean. Just set them on a sheet lined with parchment and fill as you like with your cake batter. You do need to make sure the baking sheet you use underneath is quite flat so you avoid batter leaking out the bottom. When the cake layers are baked, just run a paring knife around the edge to cut out of the rings.
We also use these rings to assemble our cakes. If you are making a layered cake, these are very handy.
In these pictures below you'll see some top views of our current feature Peach Chocolate Cake being assembled. First, we set a cake layer inside the ring at the bottom. Then we brush a drench (flavoured simple syrup) on the cake layer. Next we pipe a ring of chocolate fudge frosting around the outside edge of the cake layer, and spread some preserved peach puree in the middle.
Then comes another layer of cake, brushed with more brandy drench. Then a smooth layer of chocolate fudge frosting on top. At this point, you can keep the cake in the freezer assembled inside the ring until the day you decorate it to serve.
You may want to cut some cake layers in half to get thinner rounds and more layers in your assembled cake. You could pour a layer of chocolate ganache over each layer of buttercream, like in our Triple Chocolate Cake, pictured up top. So many possibilities!
Another great thing about these stainless steel rings is that they can be heated with a kitchen torch to help you easily release from the cake sides before removing.
When you're ready to fully mask your cake, you'll have an easier time with these other handy tools: an offset spatula, and a revolving cake stand (or cake turntable). This will help you make a nice flat crisp edge, which is especially important if you want to finish a cake with ganache over the frosting, like we do with our Peach Chocolate cake. 
Set a container of hot water and a towel nearby to dip and wipe your offset spatula to keep it warm for spreading the buttercream or frosting smoothly.

It can be hard to find cake rings if you don't have access to a wholesaler, but inquire at some kitchen stores in town, and you could always find something on Amazon. Last time we checked, Cook Culture in Victoria carried an adjustable steel cake ring by Fox Run. They also carry a wide selection of spatulas and other utensils. 
Michaels carries a cake turntable that can be adjusted to different angles to make decorating easier.
These are just a few tips, and hopefully you feel inspired to make a cake! Above all, remember it doesn't have to be perfect - it's still yummy cake!
If the thought of making one is still exhausting, just come to us:)
We always have a couple feature cakes on display to purchase, but we recommend ordering ahead.