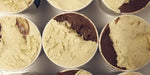 This idea for stale cookies is even easier than the last one we posted, and it's ready in about 2 minutes! Cookie Milkshakes! You probably don't need a recipe for a milkshake, but here's one just in case:
Chocolate Chip Cookie Milkshake
by
Two Peas & Their Pod
(with added notes and dairy-free version by me):
Ingredients
2 cups vanilla ice cream
3 chocolate chip cookies, broken up (I recommend our
gluten-free peanut butter chocolate chip cookies
!)
1/4 cup chocolate chips
1 cup milk
Whipped cream, chocolate chips, and extra cookies for garnish, if desired
Directions
1. Place vanilla ice cream, cookies, chocolate chips, and milk in blender. Make sure the lid is on tight and blend until smooth.2. Pour chocolate chip cookie milkshake in glasses. Garnish with whipped cream, chocolate chips, and half chocolate chip cookie, if desired. Or, top with
salted caramel sauce
!
Serve immediately.